Fat Hippo and vegan aren't necessarily words you expect to see in the same sentence. But don't worry, you didn't read it wrong! We've designed a whole load of new vegan dishes so the signature Fat Hippo 'good kind of gluttony' can be enjoyed by all.
It goes without saying, everyone is welcome to eat at Fat Hippo. Meat-eaters, vegetarians, vegans and those with food intolerances. The food industry is changing and so have we. We want you to be able to enjoy our food in the way that suits you. We're a big believer in each to their own in the burger world!
So does vegan junk food tickle your tastebuds? Then we've got the perfect menu for you.
Vegan START(ers) as you mean to go on...
Before we tempt you with the mouth-watering details of our vegan burgers, it's only right to begin with the delicious vegan starters we have available.
First up, Vegan Dirty Waffle Fries. We're talking a bowl of potato waffle goodness smothered in the vegan version of our signature tangy Fat Hippo sauce and covered with crispy fakon bits. These are made from Miami Burger Smoked Streaky Mini Rashers™ which, whilst plant-based, promise the texture, smell and taste of traditional bacon.
Next, we have our Vegan Trash Browns. Our deep fried tater tots are loaded with crispy Cajun onion strings. Simply more-ish. You won't be able to get enough of them.
Have you heard about our infamous Wachos? At Fat Hippo, we're big advocates for waffle fries > nachos any day of the week. And of course you can get a vegan version too! Picture a bowl loaded with potato waffle fries, covered in smashed 'vegan fried chicken', guacamole, Hellacious Hippo Hot sauce and fresh jalapeños - sounds pretty incredible right? Our Vegan Wachos come in bowls for 1 or 2 (although let's be honest, a bigger portion doesn't necessarily mean sharing - we got you)!
Something to tickle your Frickle? Not forgetting, you can request for our Frickles to be a vegan starter too! Our fried crinkle cut pickles always go down an absolute treat. Once you start, you just can't stop.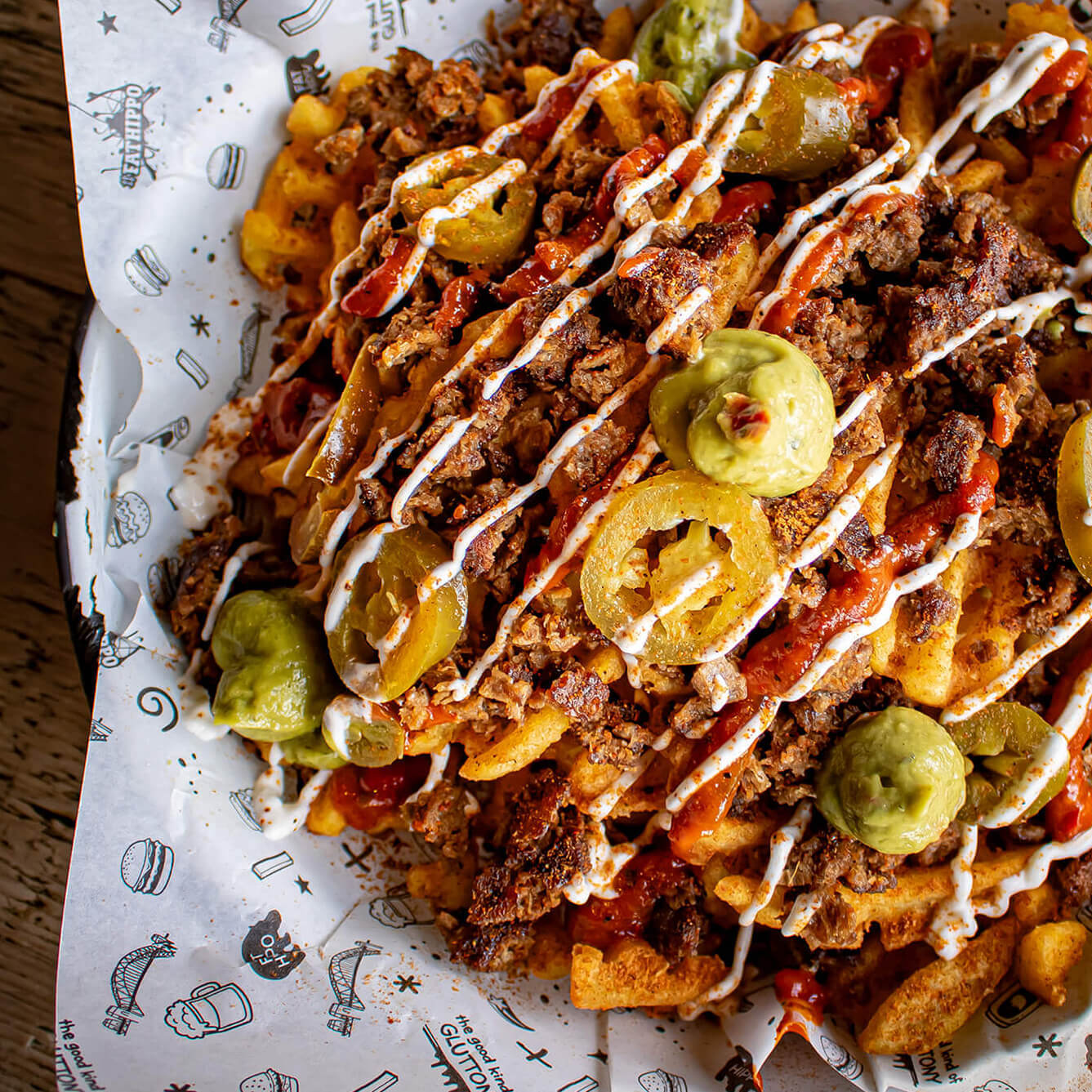 Now for the good stuff … Vegan burgers!
We've got not one, not two, but FIVE vegan burgers on our new menu to get your hands round. In true Fat Hippo style, we promise your fingers will be messy and your belly will be full.
All of our vegan burgers are served in a tasty toasted vegan brioche and as standard, they come with free hand cut chips. We're all about #FreetheChip here at Fat Hippo!
Don't panic - it's not the real deal - although we can't lie, they are pretty damn convincing.
Five Lies
First up on our list of mouth-watering vegan burgers, we have Five Lies. This single plant based patty is layered with vegan cheese, tangy pickles, ketchup and American mustard. We use Classic Miami Burger® for our beef substitute patties - these are similar to other plant based patties but without the high saturated fats, coconut and palm oils - added bonus!
Bloody Harrelson
With its name inspired by a vegan ICON, the Bloody Harrelson is a firm favourite amongst our vegan fans. The recently updated new and improved version consists of a single plant based patty, vegan cheese, smokey mayo, crunchy gem lettuce, juicy tomato, sweet onions and ketchup. Just as iconic if you ask us.
Harlem Fake
Old craze, new concept. The Harlem Fake is made up of a southern fried plant based patty, served up with vegan cheese, pink onions, sriracha mayo, crunchy lettuce and chipotle 'slaw. We use Louisiana Chick'n® Burger for our southern fried plant based patties and boy, they're so good, we'd be surprised if you don't end up showing us your dance moves too.
Notorious VFC 2.0
Whisper those three magic words: Vegan. Fried. Chicken. Oh yes, our Notorious VFC 2.0 is back and bigger than ever. We're talking a southern fried plant based patty topped with waffle fries, vegan cheese, crunchy lettuce, pickles, BBQ sauce and zinger mayo. BRB, just drooling.
Oprah Sin-free
And last but rather the opposite of least, the brand new iconic Oprah Sin-free. Here we have a DOUBLE plant based patty, topped with vegan cheese, Cajun fakon bits, our beastly onion rings and our signature vegan Fat Hippo sauce. A true legend.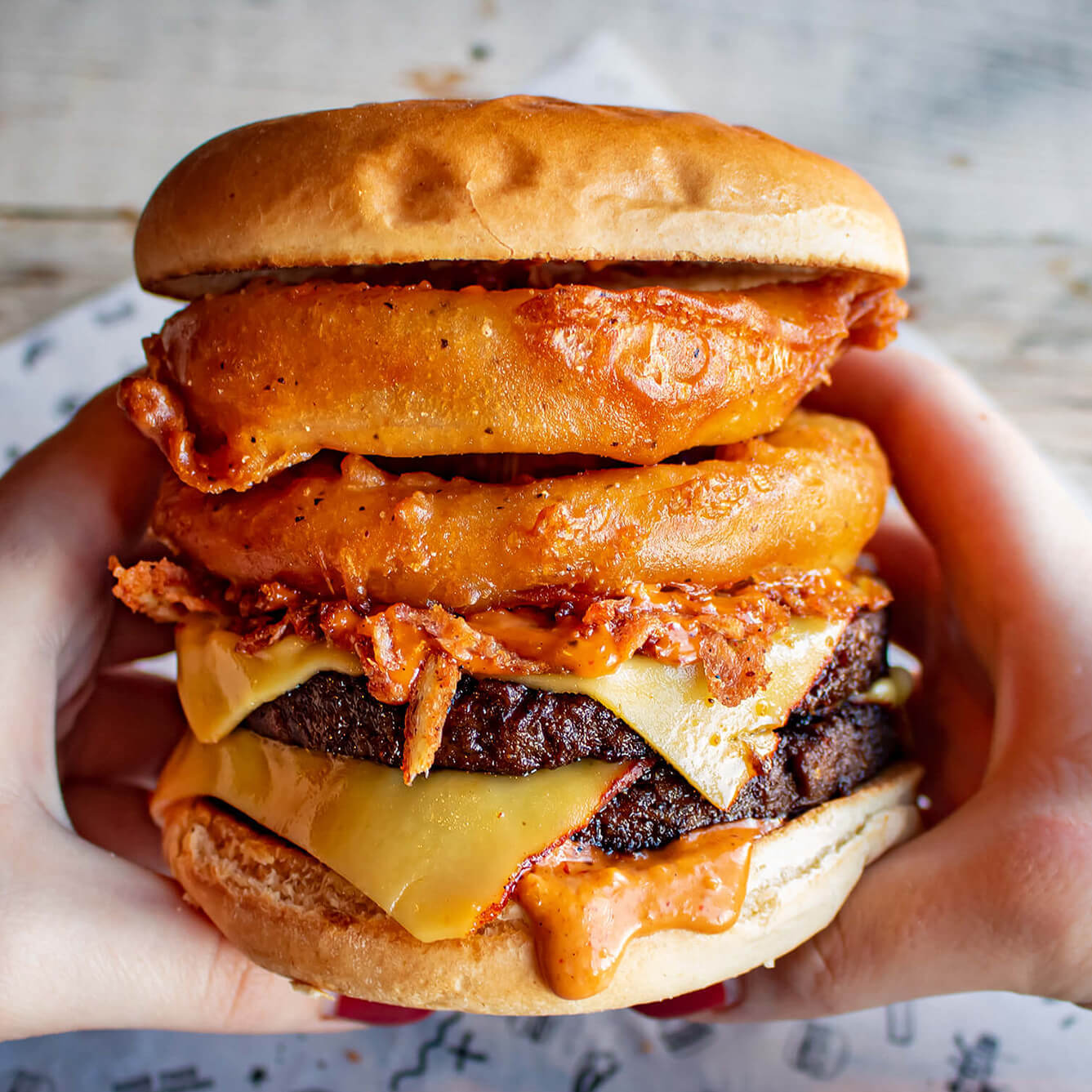 Time for a vegan upgrade …
Do your future self a favour and upgrade your meal! We fully encourage adding an extra cheeky plant based patty (or two) to your burger...
Also, you know we mentioned hand cut chips come with your burger as standard? Well for a little bit extra, you can upgrade those hand cut chips and make things that little bit dirtier!
Level up vegan style with dirty hand cut chips, dirty skinny fries, dirty sweets or dirty waffle fries. Smothered with crispy fakon bits and our tangy vegan Fat Hippo sauce, the rumour is the dirtier, the better...
Or are you a bit more of a Plain Jane? There's nothing wrong with that in our eyes. Change your hand cut chips to skinny fries for free or for a little bit extra, upgrade to cajun fries, sweet potato fries or waffle fries. Sometimes you gotta change up that potato game.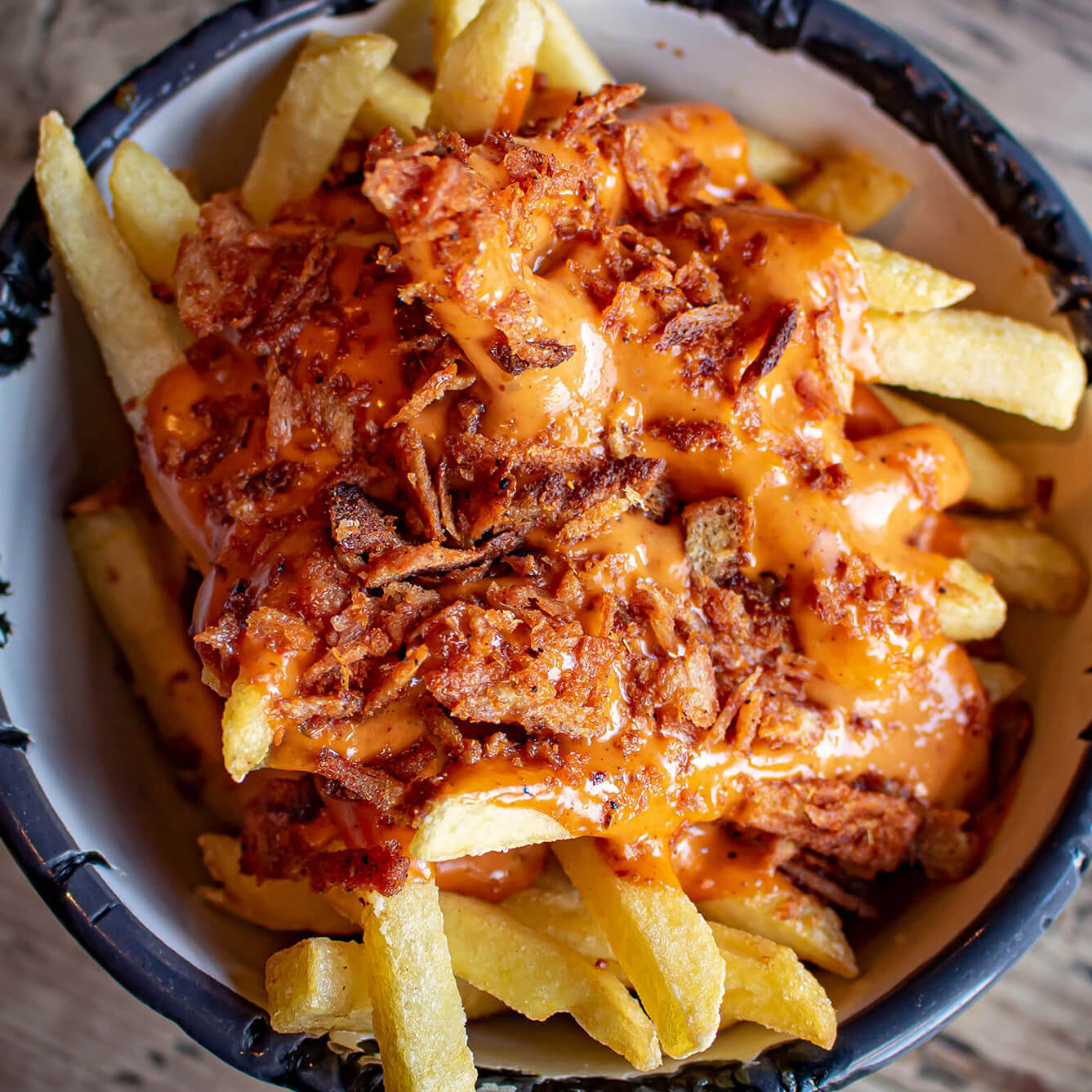 Did someone say vegan lunch?
Exciting news just in! The Little Oprah has joined our Fast Hippo menu. The little sister to Oprah Sin-free, you can now grab this delicious vegan burger for a midday treat. Served in a tasty toasted vegan brioche with hand cut chips, the Little Oprah is made up of a single plant based patty, vegan cheese, Cajun fakon bits and our tangy vegan Fat Hippo sauce. It's safe to say lunchtimes will never be the same! Available 'til 4pm in our restaurants.
What are our plant based burgers made from?
Our 100% plant based products are 'great tasting food without the bad stuff' from the brilliant Miami Burger.
Our beef substitute patties are made from the Classic Miami Burger® and can be found on Five Lies, Bloody Harrelson, Oprah Sin-Free and Little Oprah. They are made from soy bean/protein and are similar to other plant-based patties but without the high saturated fats, coconut and palm oils - no brainer!
Our southern fried plant based patties are made from the Louisiana Chick'n® Burgers. They are made from protein derived from wheat grains and are coated in a delicious panko crumbed Southern Louisiana seasoning. You can find them in the Harlem Fake, Notorious VFC 2.0 and the Vegan Wachos.
And our tasty crispy fakon bits that have the texture, smell and taste of traditional bacon? Well, they're made from the Smoked Streaky Mini Rashers™. Miami Burger have created some truly amazing rashers that have come a long way from the days when plant-based bacon resembled cheap shoe insoles (their words but #relate). Rumour has it even in blind taste tests, it fools the most ardent of bacon-heads!
The Miami Burger best bits...
Why Miami Burger you may ask? Well we've chosen Miami Burger as our plant based producer for these reasons:
100% good for you. The vegan products are cholesterol free, palm oil free, titanium Dioxide free and MSG free.
100% plant based. Miami Burger only use beans, grains and veggies to satisfy the taste buds.
100% plastic free packaging. It's all sustainably sourced and uses zero plastic. The products come frozen to save adding chemicals, preservatives, plastic wrapping and to reduce wastage with a long frozen shelf life!
100% tasty. It's that simple really.
Winner winner, (plant based) chicken for dinner!
And are you sure they're vegan burgers?
We know the taste and texture of our vegan dishes are very similar to their meat counterparts but we can promise you, they are 100% suitable for vegans. They're so convincing, there's a chance you might even be able to fool your meat-eating mates!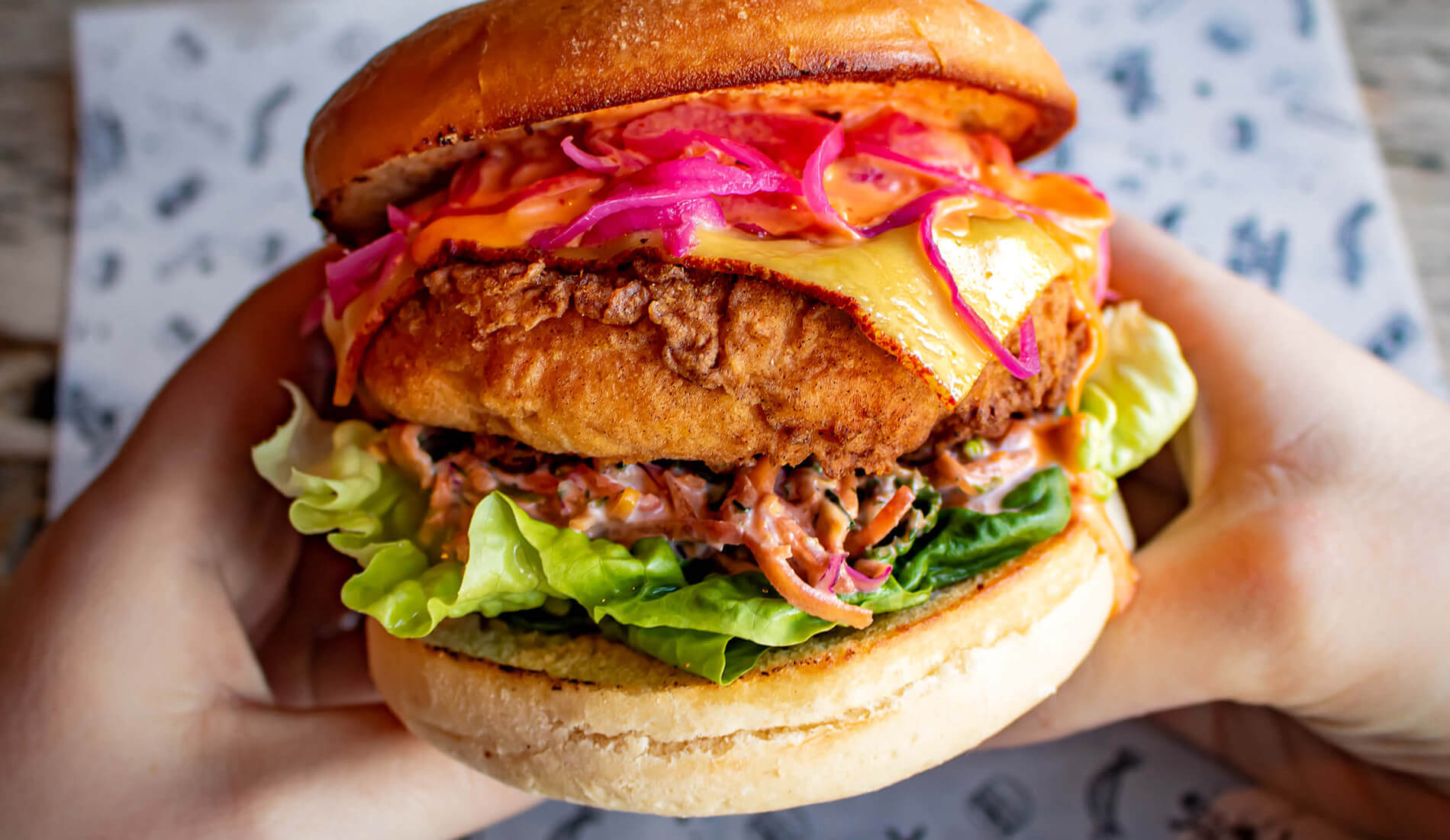 Vegan drink up!
It's a well-known fact that burgers need bevs. We've got a great range of alcoholic and non-alcoholic drinks here at Fat Hippo, including vegan beers and ciders!
Gluten free or coeliac?
No worries, Fat Hippo is here to meet all of your gluten free burger needs. A selection of our vegan burgers are available as gluten free on request!
The following plant-based burgers can be substituted with gluten free ingredients (just let us know!):
Five Lies
Bloody Harrelson
Oprah Sin-free
Sounds good right? If you have any questions about requesting our vegan burgers as gluten free, please ask your server who will be more than happy to help or drop an email over to our exec chef Dickie on dickie@fathippo.co.uk beforehand.
Book your vegan feast at Fat Hippo now
To try our delicious vegan menu, get your table at Fat Hippo booked now. For our North East, Nottingham, Leeds and Liverpool restaurants, you can reserve your table online. To visit our concessions in Sheffield, Manchester and Edinburgh, just hit up the venue directly to book or pop down as walk in custom is more than welcome!