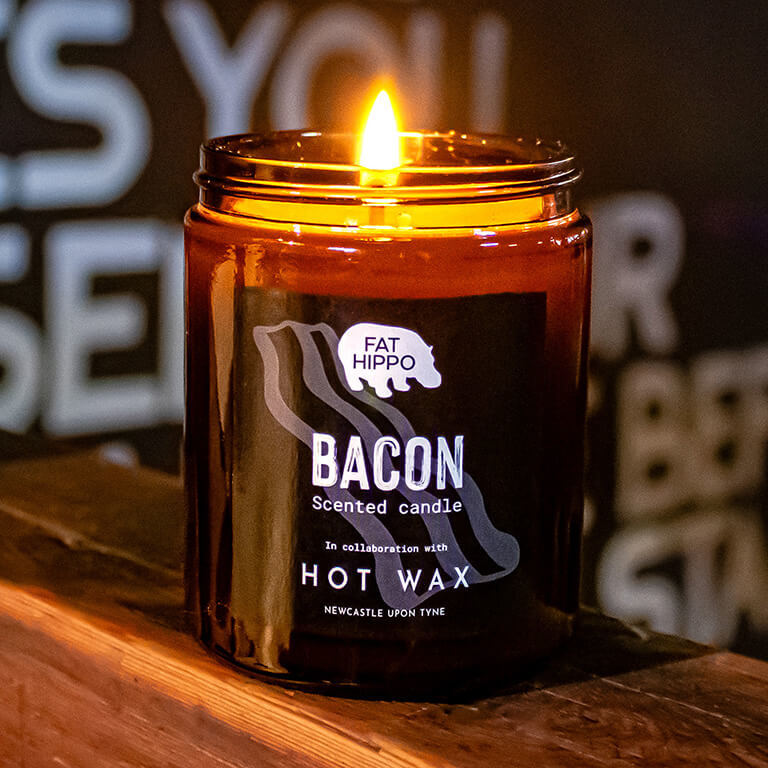 Lookin' to get lit Fat Hippo style this szn? We've teamed up with fellow Geordie candle crafters Hot Wax, to give Fat Hippo fans the ultimate 'burger happy place' feelin' with our favourite flavours - in candle form!
Does your heart burn for bacon? Does the sound of sizzling get your nostrils tingling? Then we've got the perfect stocking filler for you. Bacon. Scented. Candle. Burgers' one true soulmate (and number 1 burger topping, IYKYK) savoury scent has been crammed inside a jar ready to fill your humble abode with the nostalgic smell of crispy smoky bacon.
But don't blow it! These limited edition, vegan, hand-poured small batch candles, won't be around for long. Treat the burger lover in your life to the smell of that Fat Hippo feelin'!
Vegan and eco friendly, soy wax candle

Made with real maple bacon fragrance oil (+ Fat Hippo magic!)

180cl, 30 hours approx. burn time (longer than paraffin candles!)

Cream wax, dark amber glass jar + lid, with self trimming cotton wick
Please allow 1-2 working days for your order to be processed. The delivery timeframe is estimated and applies once item has been dispatched. This is not guaranteed by Fat Hippo and is reliant on Royal Mail turnaround. Please note postage prices displayed cover up to 3 items.