Over a decade of Fat Hippo means a decade of incredible specials created in our infamous 'Burger Lab'. Throughout the years, we've seen many a great burger pass through our restaurants, courtesy of our hardworking chefs. We don't like to give away too many details about where the magic happens but it's safe to say, they've served up some specials that cannot be forgotten about.
We thought now would be the perfect time to take a trip down burger lane and reminisce over a few fan favourites. From Born Slippy, the one that originally got away, to absolute legends like the Candy Man... you just never know what the Burger Lab will be cooking up next!
Warning: we don't recommend reading this article on an empty stomach...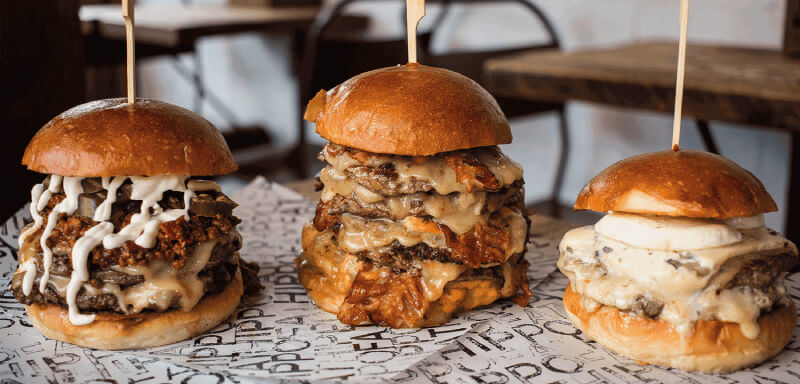 Born Slippy
Shouting, "BURGER, BURGER, BURGER, BURGER" Shouting "Mega, mega TASTY thing, mega mega"!
Known as the one that got away, Born Slippy has always been a firm fan favourite. When the infamous burger went up against three other popular specials in our #FatHippoTurns10 birthday burger battle, the meaty treat won the public vote outright - it was in a whole different league of its own.
Why is Born Slippy so popular we hear you ask? Could be something to do with its double beef patty, layered with gooey American cheese, creamy garlic mayo, tender braised pork rib meat, topped with fresh jalapeños and chilli jam for that little kick!
This special has been slipping in and out of our restaurants more times than Underworld can shout LAGER, LAGER, LAGER, LAGER... (you know the rest). In fact, it might just be hanging out on our menu permanently now.
Candy Man
Cast your mind back to 2015.
Do you remember... the Candy Man?
The Candy Man?
The Candy Man.
Yes, I remember the Candy Man... who lived in Fat Hippo Burger Lab?
An absolute legend in his own right, the Candy Man first made his appearance way back when and pops back up to say hello again every now and then. He was even a permanent addition to the menu for a while, thanks to the demands of his loyal fans, and a little Hippo told us he sometimes likes to hang out on a thing called a Secret Menu... but we know nothing about that! #JoinTheHerd
The original sweet talkin' sugar coated Candy Man was a double beef patty layered with American cheese, candied bacon and onion jam. When the bounce back kid made his return for the #FatHippoTurns10 Birthday Burger Battle, he was pimped up with a cheeky garlic mayo addition which went down an absolute treat with #TeamCandyMan.
P.S. We take no responsibility for what happens when you say Candy Man in the mirror five times...
Rise and Swine
At Fat Hippo HQ, we often get inundated with messages, comments, emails, DMs – even the odd handwritten letter – asking when we're going to bring back this fan favourite!
We're talking about those four magic words: ALL DAY BREAKFAST BURGER.
Yes, who remembers when the Burger Lab served up breakfast all damn day long? (Because who actually has breakfast before 10:30am, er, 11am anyways...)
In our infamous wakey wakey, eggs and bakey burger, we had a beef patty, a sausage patty, smoked bacon, American cheese, fried egg, chipotle ketchup, shredded home fries and our signature Fat Hippo sauce. Oh, and Rise and Swine was served with mini hash browns - what a winner.
Gutted if you snoozed and missed this bad boy!
Bubba Gump
'Shrimp is the fruit of the sea. You can barbecue it, boil it, broil it, bake it, saute it'... and you can put it in a BURGER!
Throwing it back to 2016 when Bubba Gump first made his debut as a miniature version at our Riley's Fish Shack takeover - a collab we simply couldn't refuse! The Little Bubba Gump went down so well with you fishy folk that it was only right to bring him back for that year's National Burger Day (honestly, who came up with a whole day devoted to burgers? GENIUS!)
Bubba didn't stop there. He managed to paddle his way onto our permanent menu for a while!
And what makes Bubba shrimply the best? We're talking double beef patty, American cheese, smoked bacon, popcorn shrimp, our signature Fat Hippo sauce and chipotle 'slaw. Hubba hubba Bubba!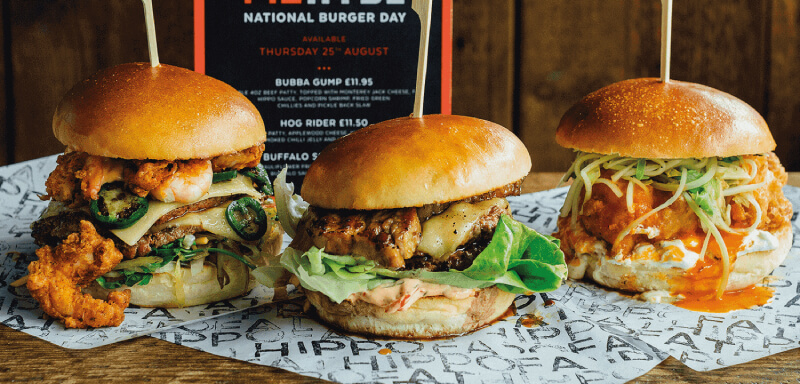 "Reach for the Fries" - Toy Story Special
You only have to scan your eyes down our menu to know there's a few film buffs here at Fat Hippo. Those brilliantly named burgers don't just come from anywhere. That's why when Toy Story released another instalment of Woody and the gang's latest adventures, we couldn't resist a cheeky special.
Our Burger Lab channelled their inner space ranger to bring a special main and shake to send our Fat Hippo family into infinity and beyond!
We said howdy to "Reach for the Fries". This loaded tray of crinkle cut Cajun shrimp fries, gooey cheese, crispy Hamm bits and pickled Hippo 'slaw could only be described as a food-date with destiny!
And of course, every good main needs an even better partner in crime. "There's a Shake in my Boot!", a thick strawberry shake with marshmallow, layers of whipped cream and pink jelly pigs completed the feast for all big kids!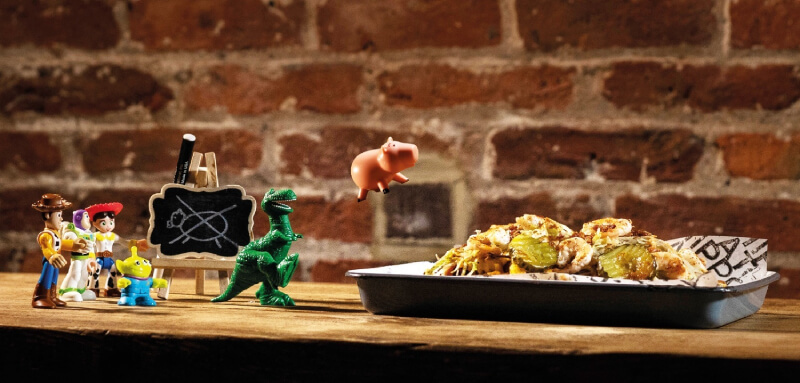 Game of Cones
Hold the door! Remember when summer was coming and Fat Hippo, gluttonous ruler of the North, mother of burgers, slayer of hunger, protector of all stomachs, created a burger special fit for a king!
You got it. In time for the final season of Game of Thrones, the house of Fat Hippo welcomed the Game of Thrones inspired special, the Game of Cones!
This Burger Lab special of all specials had nuggets of chicken or halloumi tossed in sweet chilli, piled into a waffle cone drizzled with gooey American cheese and garlic & herb mayo, sprinkled with smoked bacon bits on top and served with skinny fries.
Because who says burgers always belong in a bun?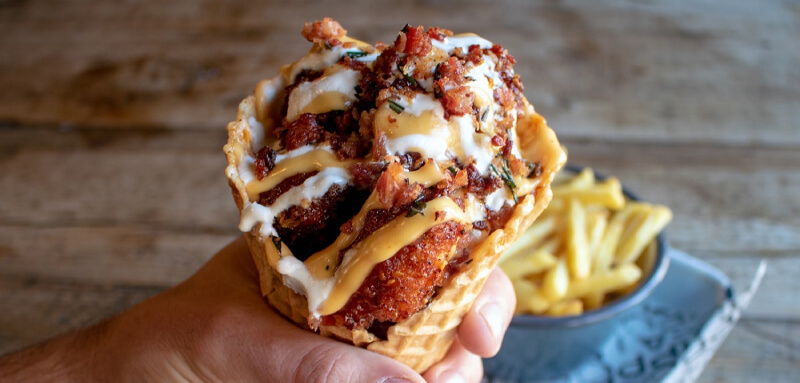 Fat Hippo x Scream for Pizza
What's better than two proudly Northern, independent, local brands come together for a collab? We'll wait.
That's right, remember when we partnered up with one of our favourite local legends, Scream for Pizza to bring you the 'Nduja Love me? Burger!'.
We took the Scream's 'Nduja Love Me' pizza and added a Fat Hippo style twist. This creation involved a double beef patty with an oozing grilled cheese skirt of mozzarella and blue cheese, drenched in spicy nduja mayo and pepperoni ketchup, sprigs of basil rocket and with a drizzling of honey, served with a side of cheesy parmesan herb dusted fries. Sounds unreal right?
Collaboration specials with other local independents are right up our street... wonder who we'll be working with next?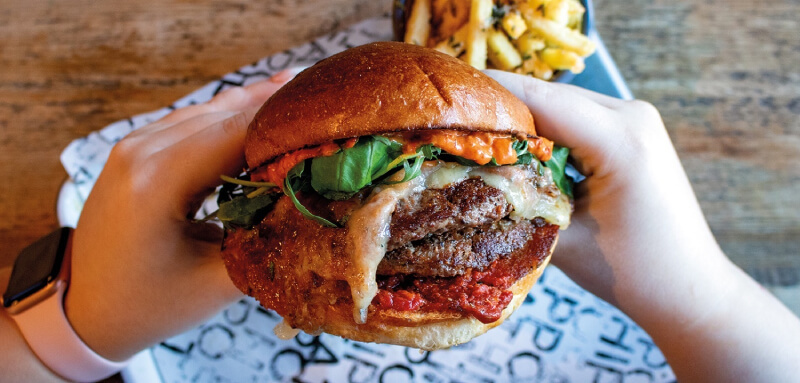 Hog Rider
It wouldn't be fair to take a trip down memory lane without mentioning the famous Hog Rider!
The best selling 'Burger Lab' special has made a couple of appearances over the last few years and it always goes down a treat with the Fat Hippo fam.
Our Hog Rider started with double beef patties topped with pork belly slow cooked in our Hillbilly Lager. After 6 hours simmering in a pot of the good stuff, the pork was then pressed overnight and cut into thick rashers then topped off with some smoky Applewood cheese, smoked chilli jelly, Boston lettuce and Habanero mayo.
Heaven on a plate, amirite?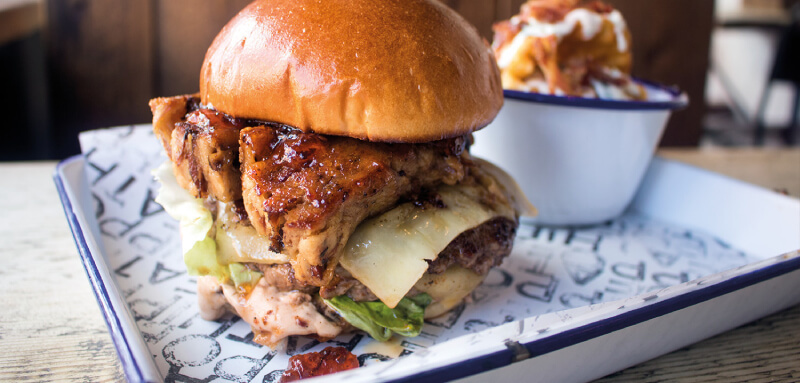 Sweet Cheesus
Some said it couldn't be done, some said it would be borderline irresponsible… when burger MEATS doughnut!
Sweet Cheesus was a God Tier Hippo! We're talking maple glazed, candied bacon Project.doughnut bun with double beef patty layered with slow cooker pork, Swiss cheese, fried nduja, smoked chilli mayo + pickled red chillies, served with Cajun hand cut chips.
The Holy Grail of all specials?
Sirieix on Fire
Roses are red, violets are blue, if you don't know by now, Sirieix on Fire was THE ONE for you!
One of our latest specials has been causing sparks to fly! Romance blossomed with our Sirieix on Fire with many FIRST DATES being bagged with the burger.
Who can blame people falling head over heels for our double beef patty smothered in gooey American cheese, juicy buttered steak, thick Béarnaise mayo, creamy peppercorn sauce, crunchy garlic + herb frites, Fred's bourguignon hash + smoky BBQ sauce, served with the best parmesan + truffle fries?
Four words: love at first BITE!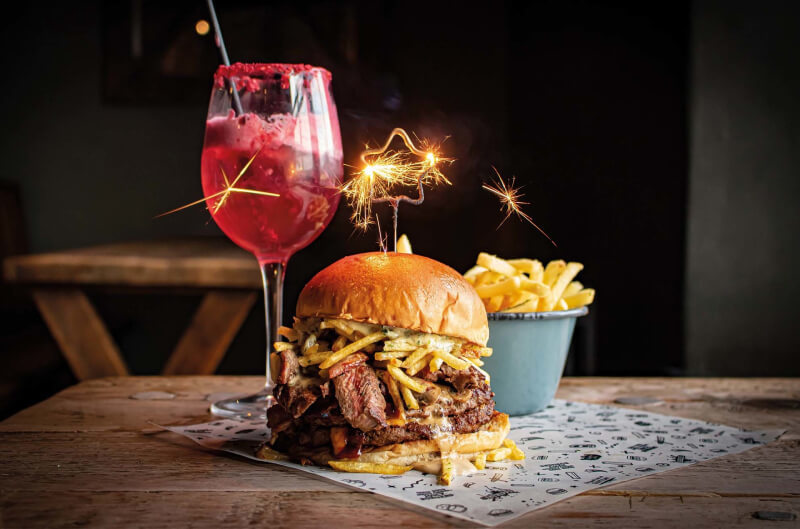 Christmas, Easter, Halloween - you name it, Fat Hippo's sorted it.
The brains behind the 'Burger Lab' work hard endlessly all year round. All those important holidays... we've got you covered! We've got specials fresh off the grill for special occasions like Christmas, Easter, Halloween, Thanksgiving, and not forgetting the most important day of the burger calendar- NATIONAL BURGER DAY!
Christmas time has seen the likes of the Hans Gruber-ger and the vegan Fairytale of No Pork, the Gavlaar and Pamlaar burgers, as well as the notorious Inglorious Basted, grace our specials menu, bringing all the festive feels to your plate. Easter is no different with the fan favourites like Blazin' Cod and the Beaster Honey making you hop on down to your nearest Fat Hippo!
In true Hippoween spirit, we've always got some horrifyingly good specials up our sleeve. Who remembers Hail to the String with its creepy dark charcoal bun... absolutely terrifying! We like to leaving you feeling thankFULL when it comes to Thanksgiving. Throwback to Pig Mac - a burger so good that you were all lovin' it!
And of course, we then have our favourite day of the year, National Burger Day! A perfect opportunity for our 'Burger Lab' to get even more creative and produce the best gourmet burger specials for the Fat Hippo family to try. Also, some may say this day is a perfect opportunity for a few legends to make an exclusive reappearance...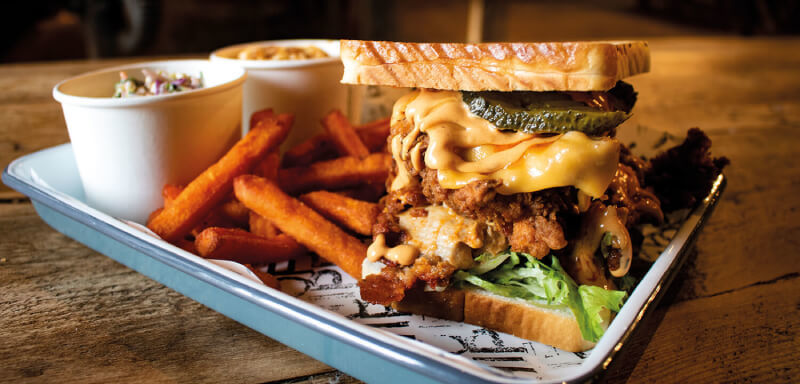 So what's next for Fat Hippo specials?
The Burger Lab are always bubbling over with exciting new fun fuelled ideas. You can expect to see brand new specials, including exciting new mountains of meat, alternative veggie offerings, holiday themed treats, the world is literally our burger!
If you want a whiff of what the Burger Lab is cooking next, make sure you check our our Specials page! A little Hippo told us that it might be worth joining the Herd if you want exclusive Fat Hippo news first...