On the hunt for a child friendly restaurant in the centre of Newcastle, Durham, Sheffield, Nottingham, Leeds, Manchester or Liverpool?
Well, hunt no more! Here at Fat Hippo our aim is to give everyone in the family good food, messy fingers and juicy burgers! Recognised as a firm favourite family friendly restaurant, come and spoil yours with the help of our proper good value, hearty Hippo kids menu!
After spending over a decade earning our stripes perfecting the good kind of gluttony in our local independent burger restaurant, we thought it only right to create the same great taste in a perfect treat size, just right for two little hands to take on!
A KIDS MENU FULL OF CHOICE AND TREATS
Here at Fat Hippo, we let your kids make their burger, their way! Our 'design their own' kids menu means no more pulling bits of lettuce and tomato out or asking for food without sauce! Grab your included drink and start picking your patty, make it chicken, beef, vegan fried chicken or our plant based patty. Then top it! With two toppings from bacon, cheese, chorizo, fakon or vegan cheese. Are we adding a bit of healthy colour? Garnish it with tomato, lettuce or pickles! Smother on a selection of sauces (or not!) and pick a side they will actually side with! No burger is complete without a good sidekick so pick from fries, hand cut chips, skinny fries, waffle fries or purple 'slaw.
New to the whole build-a-burger idea? Check out our big burger ideas at the top of the kids menu for inspiration where they can grab themselves a little version of our adult burgers. Do they want just a plain cheese burger, we got you. Do they prefer all the fixings? We salute you!
And if they're STILL not full? Shake up their day with one of our three kids shakes, chocolate brownie, Oreo cookie crunch or peanut butter popcorn. Bit more of a treat day? Pass them the dessert menu! Choose from a hippo shaped chocolate brownie served warm with vanilla ice cream and butterscotch sauce or two scoops of vanilla, strawberry or chocolate ice cream. Treat day complete!
GREAT VALUE KIDS MEALS
Heading out to a child friendly restaurant shouldn't cost the earth, this we know. At Fat Hippo you can grab a burger feast for your little one priced at just £6! Any day of the week, no restrictions, no ties, just good value kids meals.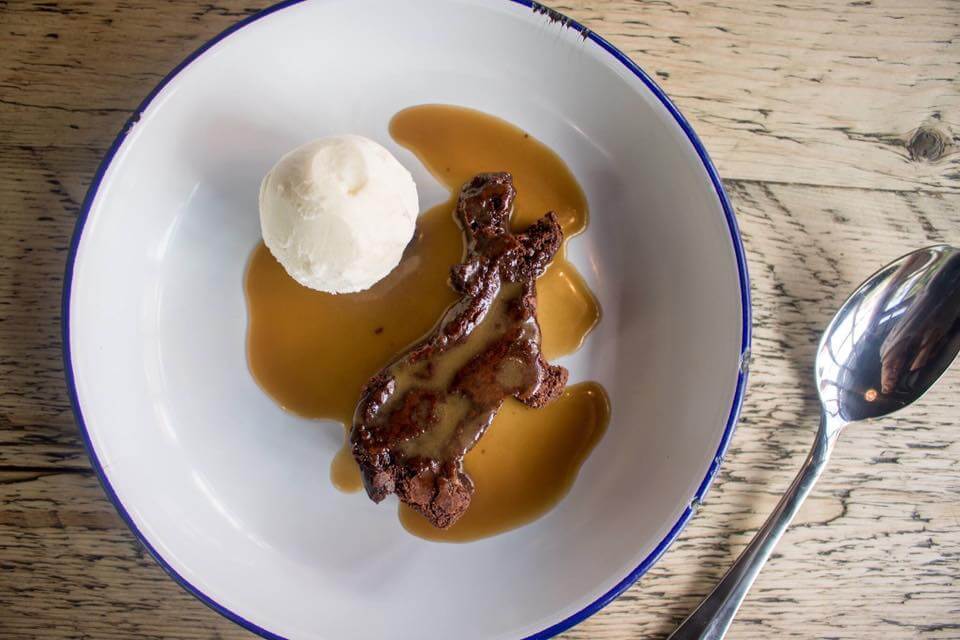 If you've been to Fat Hippo before you know portions are not a problem here, you won't be leaving hungry! Our hearty portions extend to our kids menu, their meal will keep them fuelled for whatever child friendly activity you have planned for the rest of your day!
CATERING FOR DIETARY REQUIREMENTS
As a dedicated family friendly restaurant we're focused on making our menus as accessible as possible to everyone and have worked hard to develop specialist dietary menus. That means that your child, whoever they are and whatever their need, can enjoy some of our good kind of gluttony! A little fussy? The best of us are, but that's no biggie. Here at Fat Hippo we want the whole family to be able to enjoy our food in the way that suits them which is why we never leave any of our herd behind.
A VARIED KIDS VEGAN MENU
Vegan food may not be the first thing you associate with the Fat Hippo, but over the last decade we're proud to have built a loyal herd of people who share our borderline obsession with burgers, and naturally, that means we've got customers with all kinds of dietary requirements. We make it a priority to make sure that everyone can enjoy their meal with us.
After getting some great feedback from our customers we're proud to say we have listened and we have changed. You can now enjoy vegan options on all of our menus including our kids vegan menu. We care about making sure that each and every one of you feels excited to walk through our doors to get their gluttony on, so check out our adult vegan options online too.
GLUTEN FREE KIDS CHOICES
You or you little herd gluten free or coeliac? That's no bother, Fat Hippo is here to meet all of your gluten free burger needs as our kids menu can easily be adjusted to be free from gluten. Simply request a gluten free bun with a beef patty and load it with any topping, sauce or garnish from our kids menu then pair it up with any side of fries! Manage all that? Grab an extra treat from our selection of gluten free shakes and desserts.
It's always best to check in with your server when navigating around our menu with an allergy so don't forget to give them a heads up and they will be able to assist you further!
FULL ALLERGEN GUIDE
Prefer to know the full allergen breakdown? Pop over to our full allergen guide prior to your visit and should you like to discuss your dietary requirements with us further or if you need more information, please chat to our executive chef, Dickie.
FAMILY FRIENDLY FACILITIES
The best meals out are the ones that everyone can enjoy, and a trip to one of our family friendly Fat Hippo restaurants should be just that! From getting the oldest set up in one of our spacious booths to little ones who head the table in their burger throne (or high chair!) everyone can fit in for their feast. With unisex baby changing and space for pushchairs our restaurants are kitted ready for all of your families needs. So sit back, grab those crayons and get tucked in!
HIGH CHAIRS AND SPACIOUS BOOTHS
Fat Hippo is all about comfort, be it food or the seating! Our child friendly restaurants all have spacious booths available with more than enough space for all the shopping, kids bags and everything else that parents have to carry! Pop your little one safe in one of our many high chairs and enjoy your meal together, stress-free.
Taking the kids out with their friends? We're the perfect place to grab some food on a day out or as a meeting place for a good natter and some good food. We serve up teas, coffees and so much more so come in, get a breather and enjoy a meal with your child.
UNISEX BABY CHANGING FACILITIES
Being a child friendly restaurant, we don't think anyone should feeling uncomfortable when taking their little ones out which is why all of our child friendly restaurants have unisex baby-changing facilities. So kick back and enjoy a day out with your baby stress-free. If you need a hand navigating stairs at any of our family restaurants with a pram, please just grab the attention of our staff who will be more than happy to roll up their sleeves and lend a hand.
COLOURING IN FUN!
We don't just serve up great burgers near you, we serve up our food with a side of fun! Our kids menu comes packed with a double-sided colouring in page and even space for your child to draw our chefs the burger of their dreams.
Take a breather and eat easy in the knowledge that your little herd will be entertained with our word searches, colouring and burger designing tasks. As a child friendly restaurant we don't get too caught up on table manners (we have kitchen roll to the rescue on all tables) we're all about enjoying good food with messy fingers! Strap your little one in safe to one of our many high chairs and get started.
CITY CENTRE LOCATIONS
'Burgers near me' your first search in a new city? We got you. Our child friendly restaurants are easy to find as all are conveniently located in city centres across the UK. With real time availability and booking conveniently available on our website, you can book a head to ease the stress of the day, but where is your nearest Fat Hippo?
FAMILY FRIENDLY RESTAURANT IN NEWCASTLE
Located a just off Grey Street near Monument, Fat Hippo Newcastle oozes cool urban vibe. Opposite the Newcastle Theatre Royal, it's the perfect pit stop after a trip to the theatre with the kids. Being underground we do have a small flight of stairs on entrance but don't let that put you off, our staff have muscles on muscles from all the prams they've helped carry so just pop down and give them a shout and they'll be more than happy to help you down to our child friendly restaurant. Being in the centre of Newcastle, take advantage of the excellent public transport links with our closest stop being Monument Metro!
Don't forget you can view our kids menu, full menu before arriving and book a table in Newcastle on our website.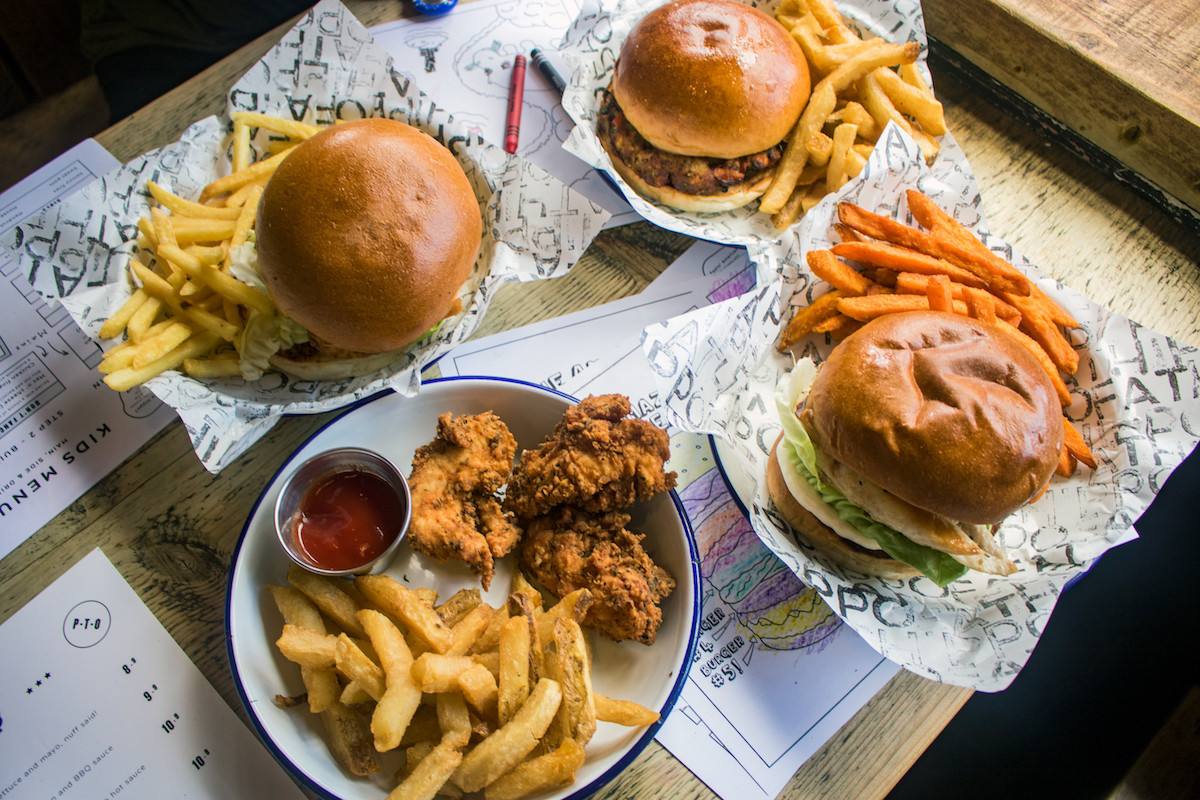 FAMILY FRIENDLY RESTAURANT IN DURHAM
Sitting proud on sunny Saddler Street, our three storey townhouse is easy to find on the cobbles and has a casual bar area as well as plenty of family friendly seating. Known as the pretty one of the Fat Hippo family, enjoy some stunning views of the river from the back or people watch until your heart is content through our large arched windows as you tuck into some of the best burgers in Durham!
Strolled up to Durham Cathedral to see where Harry Potter was filmed? Or spent your afternoon following the Durham Treasure Trail? After a day of exploring around all the museums, parks and other child friendly activities that Durham has to offer, drop into Fat Hippo Durham to refuel.
Look ahead at our kids menu, full menu and avoid the rush at busy times and book a table in Durham online on our website.
FAMILY FRIENDLY RESTAURANT IN JESMOND
The original Fat Hippo headquarters! Head to our original burger restaurant in West Jesmond, just three streets away from West Jesmond Metro station, opposite Starbucks. Stop by after a swim at Jesmond Pool, after a walk over the Town Moor or even just for an after school treat! Want to a bit of fresh air with your burger? Enjoy Jesmond's outdoor seating area, the perfect little sun trap, only made better by the delicious burgers awaiting you!
Get a heads up on the happy hours with the full menu, kids menu and book a table in Jesmond online ahead to reserve your spot.
FAMILY FRIENDLY RESTAURANT IN SHEFFIELD
Sheffield, you lucky thing – you've got two options of where to take the kids for Fat Hippo burgers!
In early 2019, we brought our signature juicy burgers to Yorkshire as we set up our first concession within Kommune Castlehouse Sheffield. Just a stone's throw from Sheffield train station, you can find Fat Hippo Sheffield S3 just down from the O2 Academy Sheffield. With weekly cinema pop ups of some great family films, Wednesday games night, contemporary gallery, rotating independent retail stores and seasonal specials, Kommune has become a family friendly activity hub in Sheffield.
With mass amounts of communal seating, advance booking at Kommune can be done online or just turn up, grab your table number and pop up to our concession. Your food will then be brought over to you by one of their runners to avoid the getting ups and downs with the kids.
Make some good food choices a head of time and take a look over the full Sheffield S3 menu to see our kids menu online.
You guys in Sheffield loved our burgers so much that we opened another restaurant in your brilliant city. Introducing Fat Hippo Sheffield S1, located inside Lane 7 at The Moor on Matilda Street...
Lane 7 entertain, we get you fuelled up! A whole range of activities available for all the family – bowling, ping pong, American pool, darts and batting cages all accompanied by good old Fat Hippo burgers.
You can book for bowling/food combos with your little herd via Lane 7 and walk-in custom is also more than welcome, you needn't bowl to get your hands on our signature juicy burgers!
Just to note at Lane 7 under 18s must always be accompanied by adults and must leave the venue by 7pm so it's best to visit Sheffield S1 with your little ones in the day and early evening.
Make sure you check out the full Lane 7 menu to see our kids menu and whet all of your appetites ahead of your visit!
FAMILY FRIENDLY RESTAURANT IN NOTTINGHAM
2020 saw us bag an excellent location in the vibrant Hockley area of Nottingham City Centre for our new restaurant. You can find our family friendly burger restaurant at number 9 Broad Street, right next door to Revolution Hockley. We're now open for dine in and takeaway with our kids options also available on our Click + Collect service.
Don't forget you can view our kids menu, full menu now and book a table in Nottingham online in preparation!
FAMILY FRIENDLY RESTAURANT IN LEEDS
Leeds, we've finally made it! Our new restaurant is based on the popular Otley Road in Headingley, next to The Box, and we're open for dine in so you and the little herd can enjoy our burgers. Don't forget we're also doing takeaway so you can bag your burgers via Click + Collect too.
Visit our kids menu and full menu now to tantalise those tastebuds and then book a table in Leeds online!
FAMILY FRIENDLY RESTAURANT IN MANCHESTER
Best way to prepare for bowling? Fat Hippo burgers! Our Manchester GN concession can be found in Lane 7's brand new site in Great Northern down in Deansgate!
With fun activities for all the family, you can come down for bowling/food combos or just burgers if that's what you fancy. Head to Lane 7 to book or pop in to see us and we'll do our best to get you seated!
Just to note it's best to visit Manchester GN with your little herd in the day and early evening as at Lane 7 under 18s must always be accompanied by adults and must leave the venue by 7pm.
Make sure you check out the full Lane 7 menu to see our kids menu and get you ready for your visit!
FAMILY FRIENDLY RESTAURANT IN LIVERPOOL
What started in the North East is coming to the North West! We can't wait to welcome you and your little herd to our brand new restaurant on the buzzing Bold Street in Liverpool city centre.
Head over to our kids menu and full menu to get excited for opening and then book a table in Liverpool online!
CONVENIENT ONLINE BOOKING
To reserve your family's spot at any of our child friendly full restaurants, you are able to book via phone or online. With real time availability and booking conveniently available on our website, simply hop onto your phone, select your time slot and pop us into your busy schedule.
Feeling a little more in the moment? Simply walk in and should there be a little queue, take advantage of our optimised queue waiting system where we can send you a text when your table is ready - no waiting around with the kids coming to a halt, work up their appetite 'til the last moment!
Things run a little differently at our concession. At our Sheffield S3 branch we are conveniently placed inside Kommune Castlehouse with communal public seating so just head over to Kommune to reserve your table. In Sheffied S1 and Manchester GN, we're open early 'til late so just pop over to Lane 7 to book your table.