Over the last decade, something we get asked A LOT at Fat Hippo is "where can we get our hands on your staff's branded clothing?". We've had so many requests for Hippo Merch that it was only right to get those goods available for you guys.
So we put our heads together and planned an exclusive Fat Hippo line. We're talking the classic looks as well as our BRAND NEW original illustrations. Let's be honest, we both know it's what your future self needs!
It's been a long time coming and coinciding nicely with our 10th birthday, we're super excited that our Fat Hippo Merch store is finally open!
Think of this exciting news as a 10th birthday present from us to you...
New threads, who dis? Fat Hippo Merchandise!
From our classic tees and comfy sweats to exclusive t-shirts with spanking new designs, our Merch store is THE place for the burger lover.
Here's a run down of the Fat Hippo wardrobe staples to get your hands on.
Classic Hippo T-Shirt
The one you all know and love. Available in both black and grey, our classic Fat Hippo tee has the signature solid Hippo logo embroidered on the chest, with our name logo screen printed on the nape of the neck on the reverse.
One for the Fat Hippo fan.
Classic Hippo Sweatshirt
The classic design in a comfy sweat? Yes please. Also available in both black and grey, our classic Fat Hippo sweat has the signature solid Hippo logo embroidered on the chest, with our name logo screen printed on the nape of the neck on the reverse.
Bit of a chilly one today? Thank us later.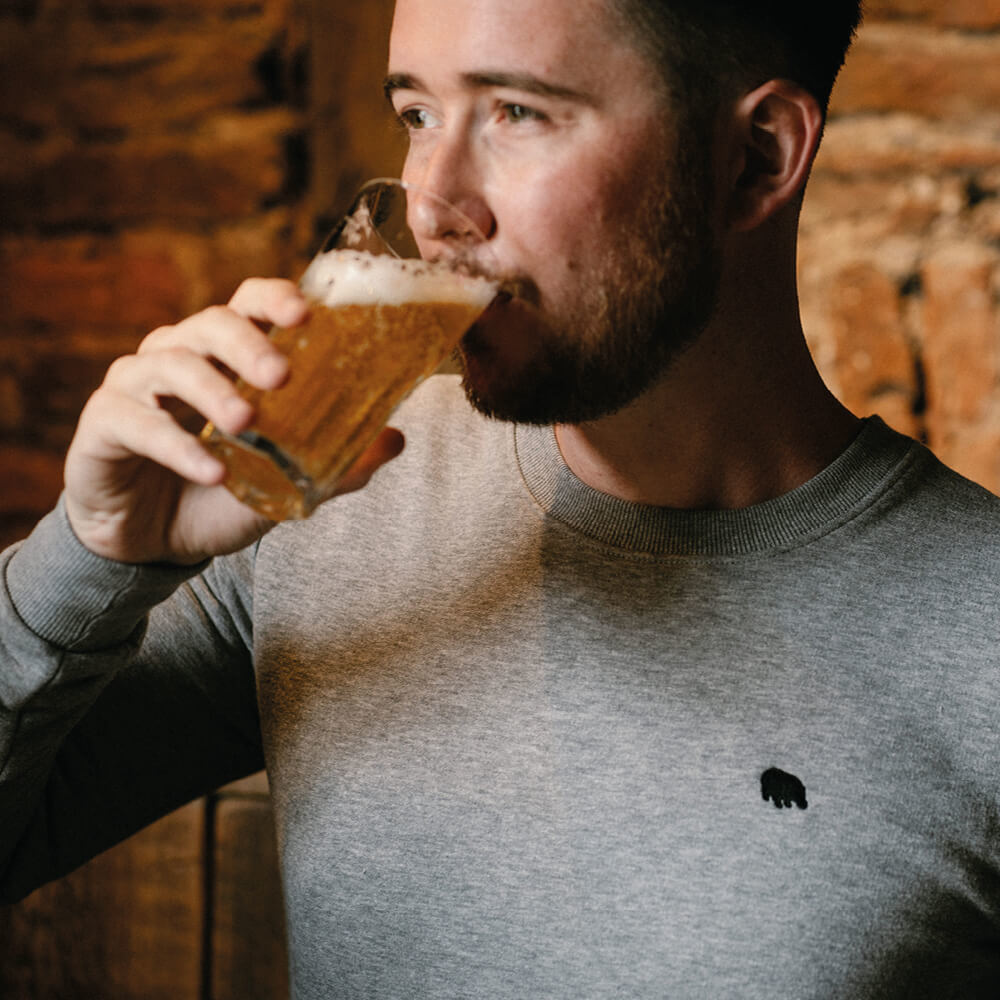 Burger Love T-Shirt
In the words of Florence, you got the Burger love - introducing the first of our brand new illustrations. Embroidered on the chest of this white tee, we have our signature solid Hippo logo with the new burger illustration printed on the reverse.
It merch be love, burger love!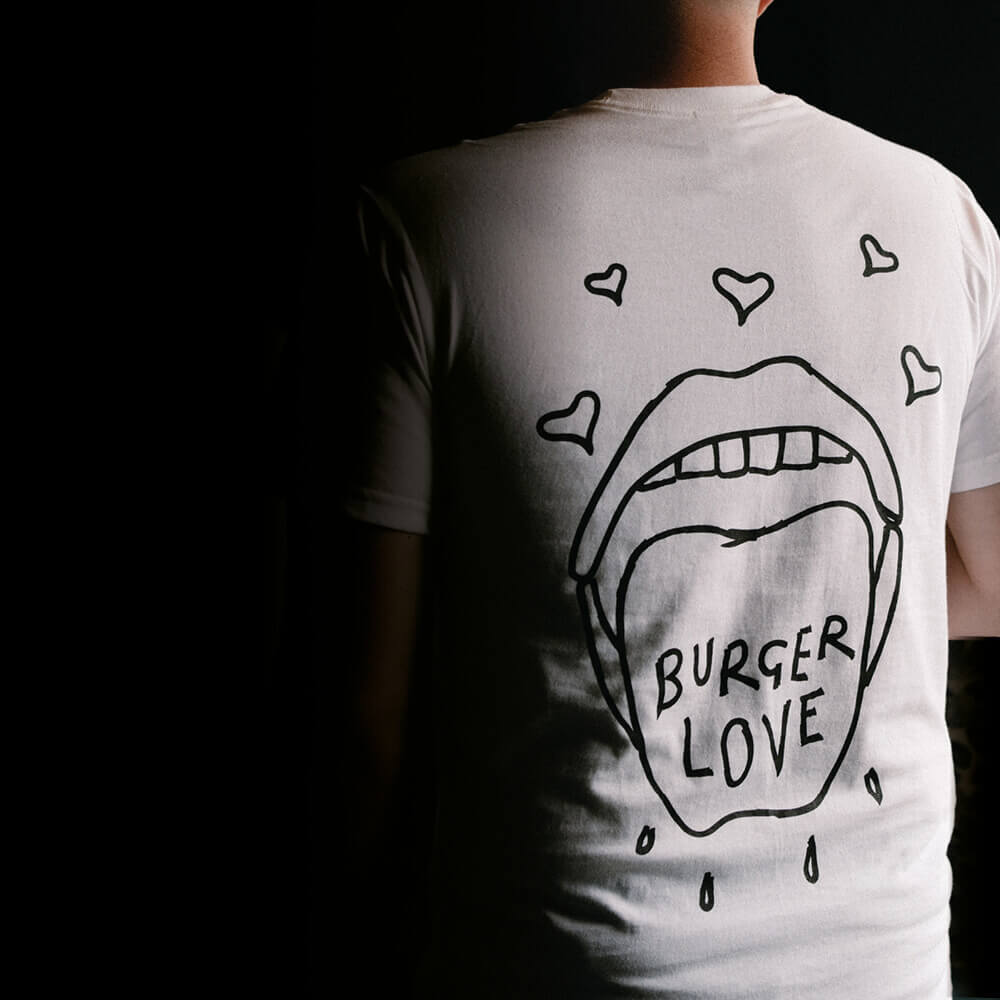 All Good T-Shirt
If the question is "burgers?", the answer is always *thumbs up enthusiastically* "all good!"
Another one of our exclusives, the brand new thumbs up illustration is printed onto the front of this black tee, with our name-logo screen printed on the nape of the neck on the reverse.
Perfect pressie for your burger FWEND.
XX Hippo T-Shirt
It's a fact well known - Hangry Hippos need burgers.
This Hangry Hippo illustration is screen printed onto the front of this black tee, with our name-logo screen printed on the nape of the neck on the reverse.
Hangry a permanent state of mind for you too? You need this tee in your life.
Fat Hippo accessories make everything better
It isn't just all about the apparel. We've got a range of embroidered hats, tote bag, our classic tin mug and an enamel pin available too - So MERCH excitement!
Classic Hippo Trawler
Available in black or mustard, here we have our signature solid Hippo logo embroidered on the front of a ribbed, slim, knit trawler with low profile fit.
Perfect for those slightly-cooler-still-wanna-grab-a-burger kind of nights!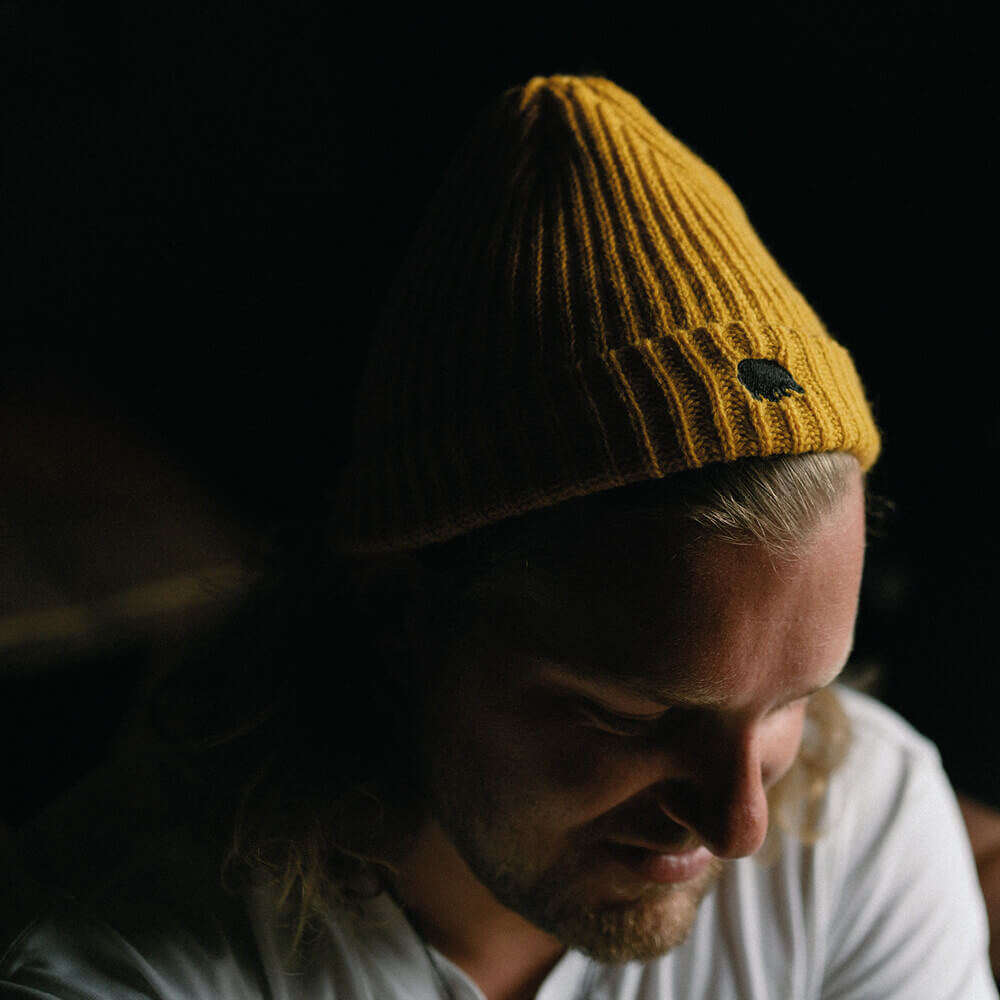 Classic Hippo 5 Panel
Featuring authentic metal ventilation eyelets, a flat peak and a snap fastening strap adjuster, our signature solid Hippo logo is embroidered on the front of a black, 100% cotton canvas Beechfield 5 panel.
Fat Hippo sorting out those bad hair days in style.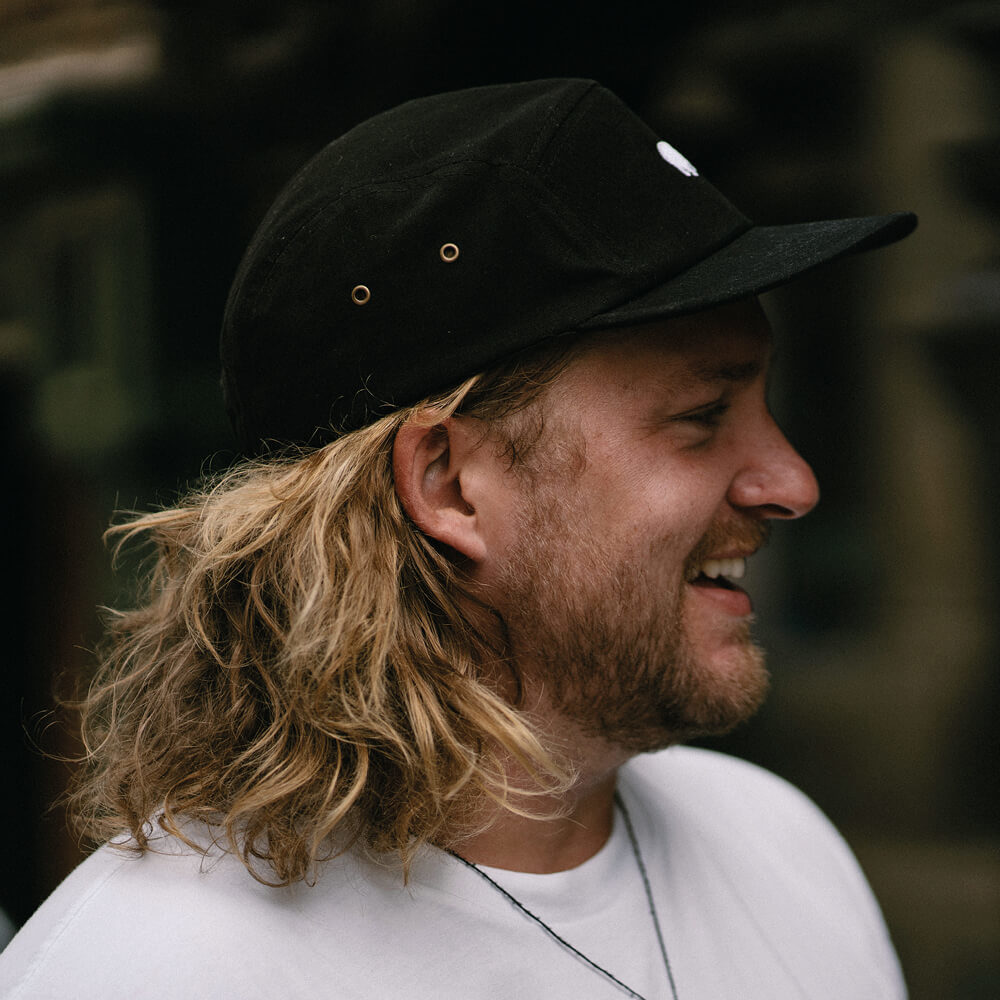 Hippo Tote Bag
Check out our black shopping tote bag, featuring another one of our brand new illustrations.
Carry a little bit of Fat Hippo with you wherever you go.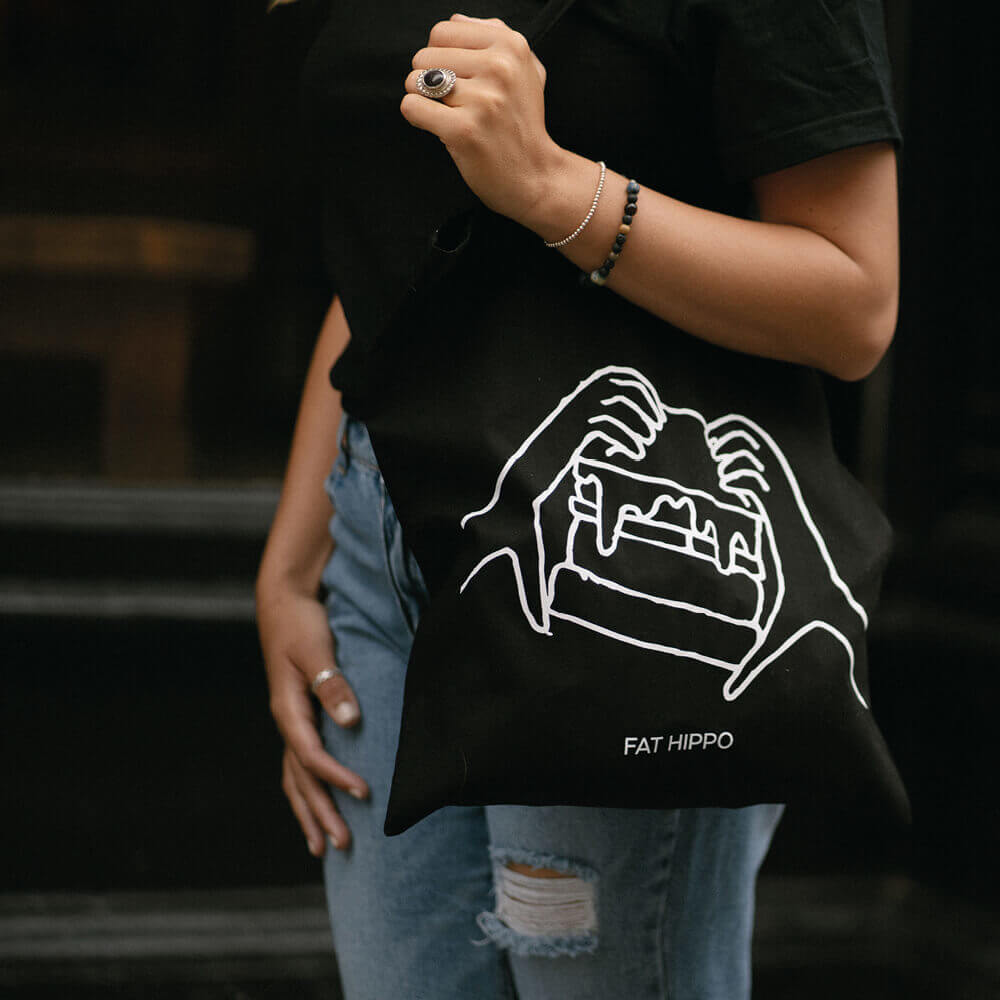 Hippo Enamel Tin Mug
You may recognise these bad boys! Our signature solid Hippo logo printed alongside our brand new burger love illustration onto a durable, hand crafted enamel mug. Coated with bright white enamel paint, each cup is then finished with black print and a silver rim.
Perfect for hot or cold drinks, or even plating up your Fat Hippo takeout chips at home!
Hippo Enamel Pin
We've turned our logo into a hard, polished enamel pin badge for you to tag onto anything you like!
Spread the Hippo love.
A little bit more about Awesome Merchandise
We've teamed up with the guys at Awesome Merchandise to bring you our unique Fat Hippo Merch. The team are based in the North and do pretty much everything in house from their 23,000 sq/ft factory where they help us ship our goods all over the world. So far, Fat Hippo Merch has made it as far as America - see, we're never joking about Hippo World Domination!
Celebrating Fat Hippo turning 10 years old
As most of you know, 2020 has been a big year for Fat Hippo. Born in 2010 in a cosy little end terrace in Jesmond, we now have FIVE (almost SIX!) family friendly burger joints in the UK and a fantastic Fleet travelling all over - Fat Hippo really has gone from strength to strength.
Over the last decade, we've created a countless number of Burger Lab specials, brought the best burgers to thousands of events, and even joined Deliveroo so you can have our signature beef and boneless buttermilk chicken patties in the comfort of your own home! It's safe to say that the last ten years have been pretty damn lit for Fat Hippo. And it's about to get even more exciting... (clue: begins with 'M' and ends in 'erch'!)
We started the year celebrating with our #FatHippoTurns10 birthday burger battle! During February, we had the pleasure of rolling out a special a week, most of which Fat Hippo fans would recognise. At the end of the month, when all four juicy burgers had their seven days of fame, it went to a public vote to determine the favourite!
Our runners up included the legendary Candy Man, a pimped-up version of the Fat Hippo special with a cheeky garlic mayo addition. This was closely followed by the all day breakfast burger, Rise and Swine, which went down an absolute treat with its die-hard fans. An exclusive vegan special for the birthday battle was a popular new kid on the block! However, it was the legend that is Born Slippy who rounded off the big birthday battle and found himself slipping past the others into first place. Although Born Slippy's celebrations were cut short, we made him a permanent addition to the menu!
We also teamed up with the legend that is Lines Behind, alongside long time friends Allendale Brewery to launch our spankin' new beer cans, Fat Hippo Hillbilly Lager and Fat Hippo Proper IPA. Our brand new recipe in-house beers now come in cans designed exclusively by James Dixon of Lines Behind. Beer cans aren't the only thing you can see his class Fat Hippo illustrations on... there may or may not be a limited edition Fat Hippo 10th Birthday tee in the works!
Although a certain pandemic may have slightly affected our other birthday surprises this year, we're lucky that we can celebrate this huge milestone in other ways, like the launch of our spanking new Merch! We know branded Fat Hippo clothing and goodies have been something you guys have been asking for since the beginning of time so it seemed only right to time our Merch store launch with our big birthday. The big questions is though, which items will you be getting your hands on to celebrate?
Check out the Fat Hippo Merch store now
Whether you're looking for the perfect pressie for the Fat Hippo fan in your life, on a 'treat yo'self' hype or just want to support the independents, make sure you head over to our Merch store now! #supportlocal