We all know some toppings belong on burgers and some absolutely do not. Dems the rules. See our menu for acceptable examples.
While some culinary connoisseurs are perfectly passionate about peanut butter on their patties (we got you boo!), there's others who like their buns bare! Those people are easily identified by their pile of picked-out pickles. Those people are fools.
We're here to discuss your patty preferences as we find out where your fave burger topping has charted in the 12 best burger toppings.
The 12 Best Burger Toppings
12. Hot Honey
What are the best burgers made of? Sweet, spice and all things nice! This saucy dark horse used to be boxed off as boujee, now is the hangover busting, immune system boosting excuse we needed. If it's good enough to sneak into your clean raw smoothie, imagine drizzling it on something that actually tastes nice. Mr Pooh may have not known much about trouser etiquette, but damn he did with this one.
11. BBQ Sauce
Sweet, smokey and rich, like your Nan when she slips you that fiver on your way out. No one has ever had a bad word to say about you BBQ sauce, you pair perfectly with the richness of a beefy patty, the cooler big brother of ketchup (who if you think is appearing in this list, you basic!) Thank you for just being you, BBQ sauce.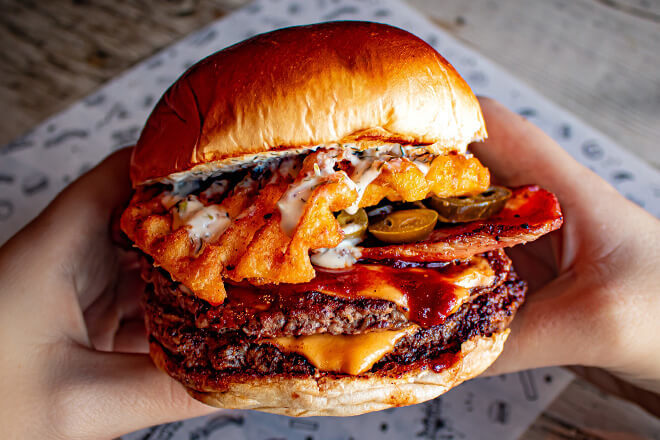 10. Waffle Fries
Okay, so you're a side piece waffles. You've always been a side piece, but what if you were made for more? When we were in a hurry that time and we threw you on top of our burger to try and eat fast on the fly, something changed. The second half of our lives began and you earned your place amongst burger topping giants. Wild Bill? VFC? You're in demand. Haters gonna hate but potatoes will always... potate ✌️
9. Jalapeños
So in writing this we discovered that you, jalapeños, are actually a fruit, which means there are now three fruits in the topping game. Pineapple if you're in Hawaii, tomatoes if you're in Italy, and the god tier: jalapeños. Those with a desire to taste fire love them cause *fire emoji*. Restaurant owners love them 'cause they make you buy more drinks. Everyone wins with you jalapeños.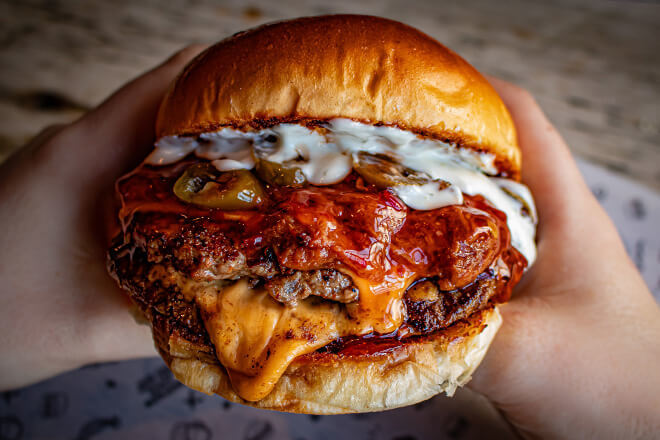 8. Braised Rib Meat
Siri, show me what a meat feast burger looks like? Here's what I have found; Born Slippy. For a truly indulgent burger experience, we need look no further than this succulent, saucy, sloppy topping! Slippin' into your buns like Adam Levine into your DM's, this cheeky addition makes your meal both delicious and fancy. Cuz pulled pork is for life, not just BBQ szn.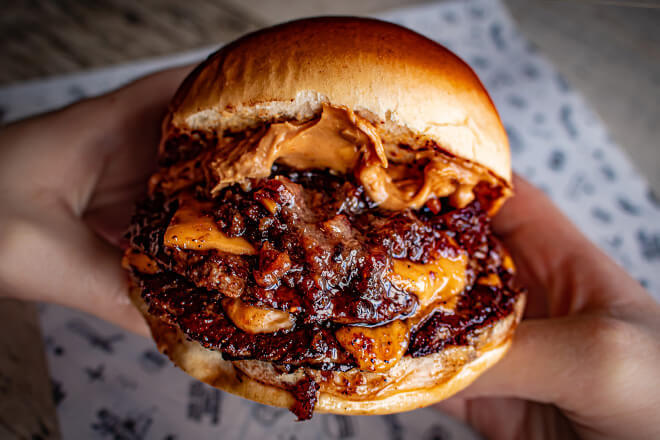 7. Peanut Butter
Socks and Crocs? Fries and milkshake? Elton and Blue? Just a few of the unexpected legendary combinations it was said would never work but did. Well here's the latest, peanut butter on burgers. A PB+JJ if you will. What's that the haters cry? This creamy, nutty, sweet and salty spectacular spread, that adds a delightful depth of flavour and crunchy texture is too much of a kink for you? What a sad little life Jane.
6. Pickles
So half of gen pop can't tickle their pickle enough, while the other half pick and flick them one by one. Pickles, you've divided the nation with your sharp, crunchy ways. Pickled cucumber stan? Don't forget, your mates who don't like pickles are very important because they give you THEIR pickles. Looking for a pretty pickle? See pickled pink onions.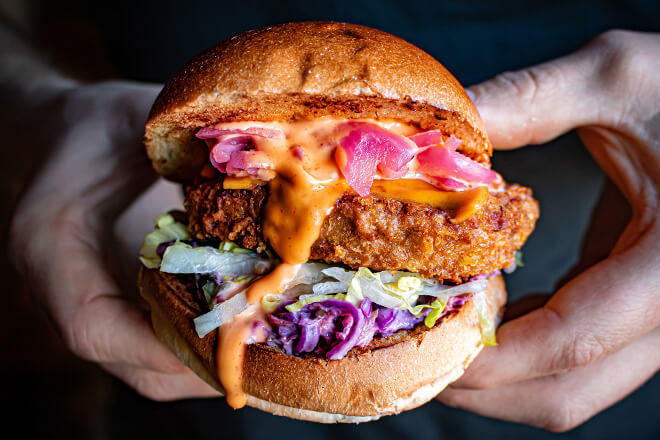 5. Pickled Pink Onions
The fit cousin of the pickle. These pretty little pink strings bring a huge amount of colour and sharpness to an otherwise mostly beige burger. But don't be fooled, even disguised in your prettiest pickled pink way, you quite literally make us cry. Your reputation wasn't the greatest going into this. But we got you, if only on Wednesdays. IYKYK.
4. Another Beef Patty
Our patties travel in pairs, like Buzz and Woody or Ant and Dec. But only few know the secret that three is the crowd you wanna be in. Wor Byker boys might have been better all this time if they'd let Cat Deeley stick around. Just think, *said in an M&S voice* "treble the juicy, rich, flavourful, beef, treble the mouthwatering, indulgent, toppings…" (Don't come for us Colin!) Treble the happiness all round really! No one has ever had beef with more than a mouthful, hell, it's the magic number for a reason.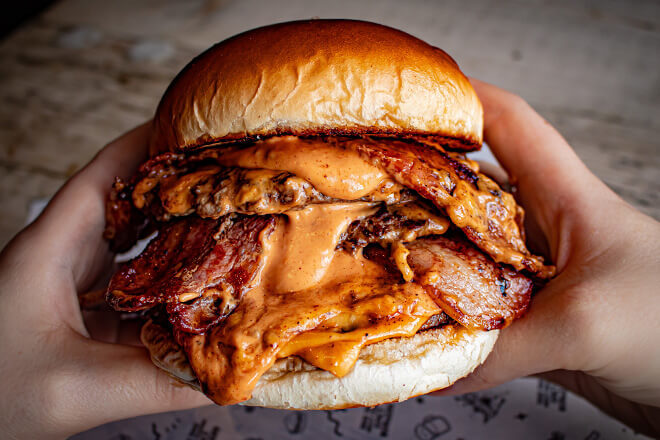 3. American Cheese
Sitting in a pub once, a friend challenged us to think of any savoury dish cheese didn't improve. The only serious suggestion we had was a curry - but they reminded us of paneer. Answers on a postcard plz but we can all agree that a burger - or cheeseburger to give them their full Sunday name, is 100% not one of those things (if they exist?!). American, blue, Swiss, liquid, vegan? Now you're speaking our love language.
2. Fat Hippo Sauce
The myth, the legend, the GOAT. Let's be honest, mayo is the low-key silent partner that brings many a burger together, but often taken for granted when living it's plain life. We've grabbed mayo by the eggs and gave it a glow up on a scale only ever seen before from the cast of Harry Potter. Only three people possess the particular set of skills. Skills that have been acquired over a very long career. Skills that are required to complete the Fat Hippo sauce recipe and they're forbidden from hanging out together, which explains a lot. It's tasty, tangy, zingy, zany and named after us for a reason. If you don't know? Get to know.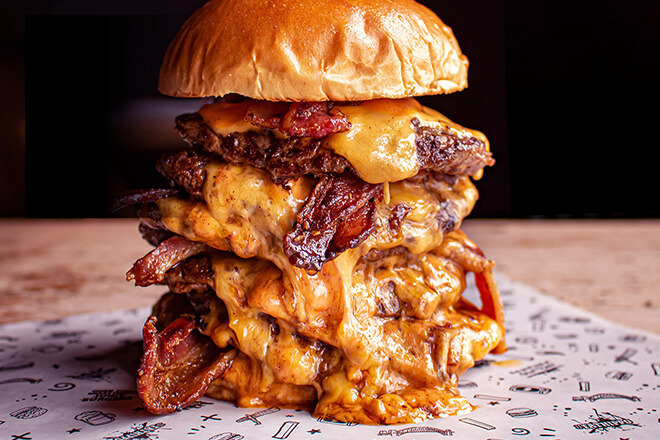 1. Bacon (or Fakon!)
Roses are red, bacon is too, was it ever in doubt, number one would be you? Here you have it, bacon is the champion of the 12 best burger toppings. Oh bacon, you are burger's one true soul mate and they would be naked without you. It beats us how we don't know who the original bacon cheeseburger genius was, or why their face isn't on a bank note with great monuments and public libraries named after them. Until then we'll just appreciate your crispy, salty, sizzling rashers in all their glory.

Looking for one of everything? See Honey Monsta.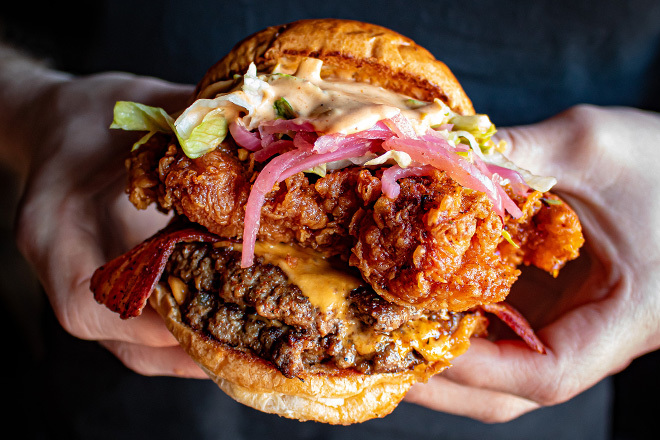 It's fair to say some tastes, textures and tangs aren't for everyone but it's those differences that make the best burgers that little bit more beautiful. No matter which burger toppings you prefer to faceplant mouth-first, we got you. Fat Hippo has the best burgers IDEMT.